About Kathy Von Ertfelda
---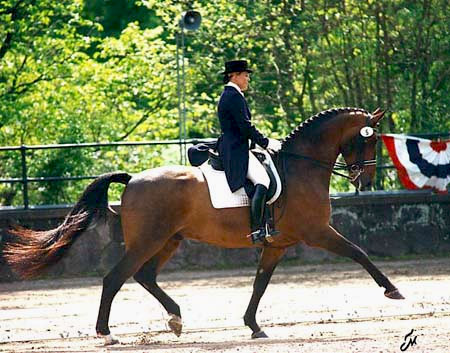 Kathy grew up in Detroit. As a child, she rarely had the opportunity to ride. In 1970, she became interested in eventing, which she pursued for a few years before becoming focused upon and consumed by dressage. Inspiration came in the form of her first mentor, Alex Konyot, the well known Hungarian master whom she worked with for several years beginning in 1978. In the early 80's, Kathy met Gerd Zuther, a highly qualified German trainer who was instrumental in finding talented young horses with potential and provided excellent coaching. In 1995, Kathy trained in Germany with Christolet Boylen and Udo Lange. In 1996, she trained in Sweden for 2 months with Kyra Kyrkland whom she greatly admires.
Kathy has trained seven horses to Grand Prix and competed most at that level. In the early 80's she competed her first Grand Prix horse, Verushka, a PR Farm homebred thoroughbred mare. Dondolo and Wanesso, purchased as four-year-olds from Gerd Zuther and Hanover Horse Farm, showed at Grand Prix in the late 80's and early 90's to earn Kathy her USDF Gold Medal.
Dutch, the Hanoverian gelding, came from Gerd Zuther (then at November Hill Farm) as an unbroken three-year-old in 1987. He became her most successful partner nationally and internationally from 1992 to 1999 and competed for the United States Equestrian Team in 1995, 1996 and 1997.
Following Dutch, Kathy trained and rode DJ, who developed soundness issues and was retired. After DJ, the Hanoverian gelding Valentino reached Grand Prix and was sold to Hans Dressler in 2008.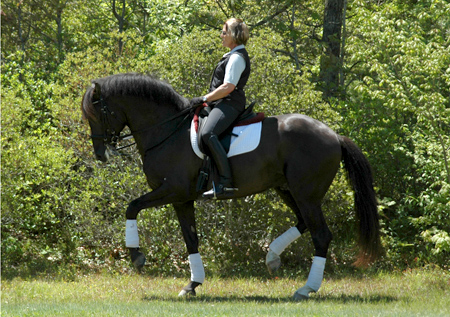 Talento WR, imported from Brazil and purchased as a 4 year old was sold in 2011 to Sweden after spending several months with Kyra Kyrklund in England.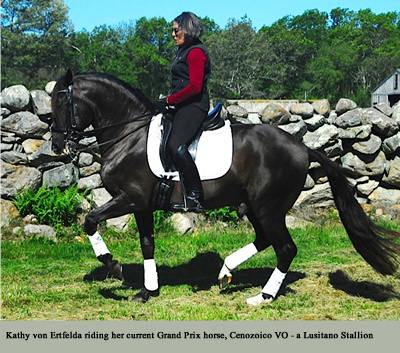 Cenozoico VO - Grand Prix - SOLD 2017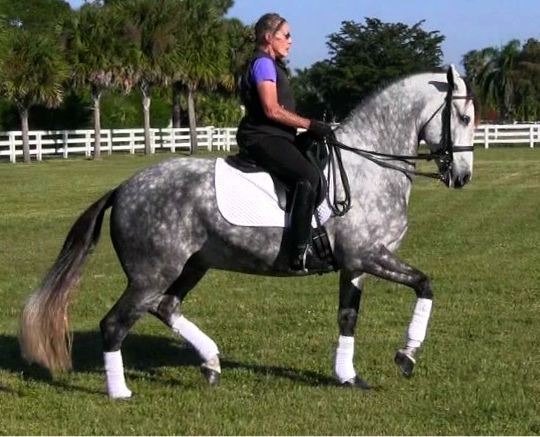 Eragon VO - Grand Prix - SOLD 2018
Competitive Highlights
Riding Dutch, a bay Hanoverian gelding, 1984
Sire: Damnatz, Dam: Seemacht
2001
Dutch retired to Martha's Vineyard and works part-time for the Black Dog Tavern
1999
USET Grand Prix A List
Qualified for Top 12 at Gladstone
1998
2nd, Grand Prix, Orlando, CDI-W
2nd, Grand Prix, Special Orlando, CDI-W
Qualified for Gladstone Finals
1997
1st, Grand Prix, USET Selection Class- Feb
1st, Grand Prix, NEDA CDI-W World Cup Qualifier
2nd, Grand Prix, KUR NEDA CDI-W
1st, Overall NEDA World Cup Qualifier
2nd, Grand Prix, Devon CDI-W
USET Silver Medal No. American Dressage Championships
NO.AM Championships- highest placing American overall finisher
3rd, Volvo World Cup Finals
1996
Qualified for World Olympic Selection Trials
US Representatives to the Volvo World Cup Dressage, Gothenburg, Sweden
2nd, Grand Prix, US Equestrian Team Olympic Qualifier, Clarcona, Feb
3rd, Grand Prix Special, US Equestrian Team, Olympic Team Qualifier, Clarcona
4th, Grand Prix Freestyle, US Equestrian Team Olympic Qualifier, Palm Beach
1995
Qualified Finals USET for Gladstone
5th, Grand Prix Freestyle, Aachen CHIO, Germany
15th of 40, Grand Prix, Aachen CHIO, Germany
5th, Grand Prix Freestyle, Munich, Germany
6th, Grand Prix, Munich, Germany
3rd, Team Competition, Rotterdam CHIO, Holland – Team
Bronze Medal
8th , Grand Prix Freestyle, Rotterdam CHIO, Holland
10th of 40, Grand Prix, Rotterdam, Holland
2nd, Grand Prix, Tampa, CDI-W
2nd , Grand Prix, KUR, Tampa, F CDI-W
2nd, World Cup Freestyle, Dressage at Devon, Pennsylvania
2nd, Grand Prix, Washington International
2nd Grand Prix Freestyle, Washington International
1994
9th, Selection Trials, World Equestrian Games (World Championships)
1st , Grand Prix, Saratoga, CDI-W, New York
1st, Grand Prix Special, Saratoga, CDI-W, New York
1993
1st, Grand Prix, Orlando, Florida
1 st, Grand Prix, Port Jervis, New York
1st, Grand Prix, Saratoga, CDI-W, New York
1st, Grand Prix, Dressage at Devon, Pennsylvania
 Qualified Top 12 for Gladstone USET Finals